Welcome to Pauley's Ju-Jitsu
Here is a short summary on How the classes will run.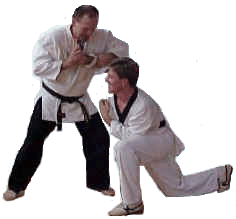 There are a lot of Kids and Adults that are full of abilities
that they haven't even tapped into yet.

I'm here to help you bring these out and improve on the ones you have,
while you will be learn one of the best
Martial Arts around in Ju-Jitsu
Classes are:
One hour and fifteen minutes long for ADULTS
One hour-------------------------------------------JUNIORS
Forty five minutes-------------------------------PEEWEE'S

Bow before you come in the Dojo door and before leaving the Dojo.

Bow to each other before and after you work out with your partner.

This is just our way to show respect for each other.

Everything you will work on in class depends on your ability and is up to the Instructor. The goal is to keep the students working and safe regardless of size, sex, or age. [KEY WORD IS SAFETY]

You will work on: Left & Right Side Recovery Rolls, Stay Down Falls,

Front, Back, and Side Falls. Learning these falls can keep you from getting hurt in any situation in class as well as out side of class.

Ju-jitsu is an all around art, you will Learn Stand Up Fighting: Punch combinations, Kicks, Blocks, Sweeps, Throws, and a wide variety of Take Downs, Ground Work, plus you will Learn all about Cutting your angles.

Stand up Self-Defense will become second nature to you against any kind of Attack you can think of and then some. From someone pushing, grabbing, punching and kicking, just to name a few. YOU WILL LEARN HOW TO DEFEND YOUR SELF AGAINST THESE ATTACKS IN A SAFE AND CONTROLLED ENVIRONMENT.

With practice and patience you will become very good at what you are learning.

You will become very good at all aspects of Ground Work, from Drills, to Applications of your Ground Techniques. Most fights are lost when you go to the ground. By knowing your ground work, you can turn defeat into a victory or just an escape.
Just remember Pauley's Ju-Jitsu isn't like any other kind of Martial Arts. It is Designed to fit everyone's Needs and Abilities.
You will not have a Black Belt given to you and walk out of this school not knowing how to Defend Yourself. Depending on your level of progress and ability, there is a certain amount of pain you will have to go through During your growth in this Art. You will learn how to control someone while on your feet or down on the ground with the Option of taking it further depending on the circumstances. You will endure some pain during your training in order to learn how to control someone and to put just the right amount of Pressure to get the job done and done right. DEPENDING ON YOUR ABILITIES YOU'LL LEARN AND PRACTICE THE TECHNIQUES AND PROGRESS AT YOUR OWN RATE.
Get your mind Prepared for a good hard workout! Also prepare for an experience that is Self Rewarding, Ego Boosting and Confidence Building way beyond your Highest Expectations. Don't fool yourself, most people come in from other styles of Martial Arts or come in off the streets and think they will breeze through this class. I have not seen this to be true. Remember, it's just a mind set. Know it to be so, and you will become a Very Skilled Martial Artist.
Rome wasn't built in a day. Meaning, be prepared to give yourself a chance to get in shape. As your conditioning gets better you will notice that your knowledge in the techniques will begin to grow. These classes are put together with everyone in mind. If you want a light workout, it's here for you. If you want medium, hard, or UFC all out training, it's here for you.
I am here for you, to answer any questions and to be there to show you as many times as it may take for you to learn all your techniques.
Know your test material. This is a must in my class. Do the best you can do and you will be ready for your belt tests.
Thank you,
Sensei Craig Pauley